The Nigerian Economist's selection was hindered by the former Trump administration
Top US government officials wrote an open letter to President Joe Biden calling for his backing of Ngozi Okonjo-Iweala
She showed her appreciation via social media
YOU MAY ALSO LIKE 
Top government officials in the United States have urged their newly-elected President Joe Biden to support Nigerian candidate, Ngozi Okonjo-Iweala, to assume the position of the head of World Trade Organization (WTO).
The former World Bank Chief Economist, Joseph Stiglitz, and former United Nations (UN) Ambassador John Negroponte, wrote an open letter to President Joe Biden calling for his backing of the Nigerian Economist.
In the letter that was signed by Former Senior U.S. Government Officials & Leaders in Academia, Civil Society and The Private Sector and published by AllAfrica.com, it reads,
"We write to respectfully encourage you (Joe Biden) to support the candidacy of the eminently qualified Dr. Ngozi Okonjo-Iweala as she seeks to become the next Director-General of the WTO."
Speaking about why she deserves the position, the letter reads,
"Dr. Okonjo-Iweala is a dynamic woman of vision who can guide the WTO through its era of reform. She possesses a very rare combination of leadership and experience that is deeply grounded in international trade, finance, economics and diplomacy."
"Her selection, as the first American and woman of color to serve as the WTO's director-general will send a clear message of inclusion to the rest of the world." The letter reads.
EKO HOT BLOG had earlier reported that Ngozi Okonjo-Iweala's selection was hindered by the former Trump administration as she was only opposed by United States of America out of the 164 member countries.
One of Donald Trump's U.S.Trade representative, Robert Lighthizer, while speaking in an interview with the Financial Times, described Ngozi Okonjo-Iweala as 'inexperienced' and stated that choosing her would be a mistake.
In the letter, Trump's opposition to the selection of the Nigerian Economist was described as a great mistake. It says, "The Trump Administration's contentious practice of pitting America against multilateral alliances was in full display in this WTO race."
Ngozi Okonjo-Iweala who is also a citizen of the United States of America took her Twitter handle to show her appreciation over the letter. She tweeted;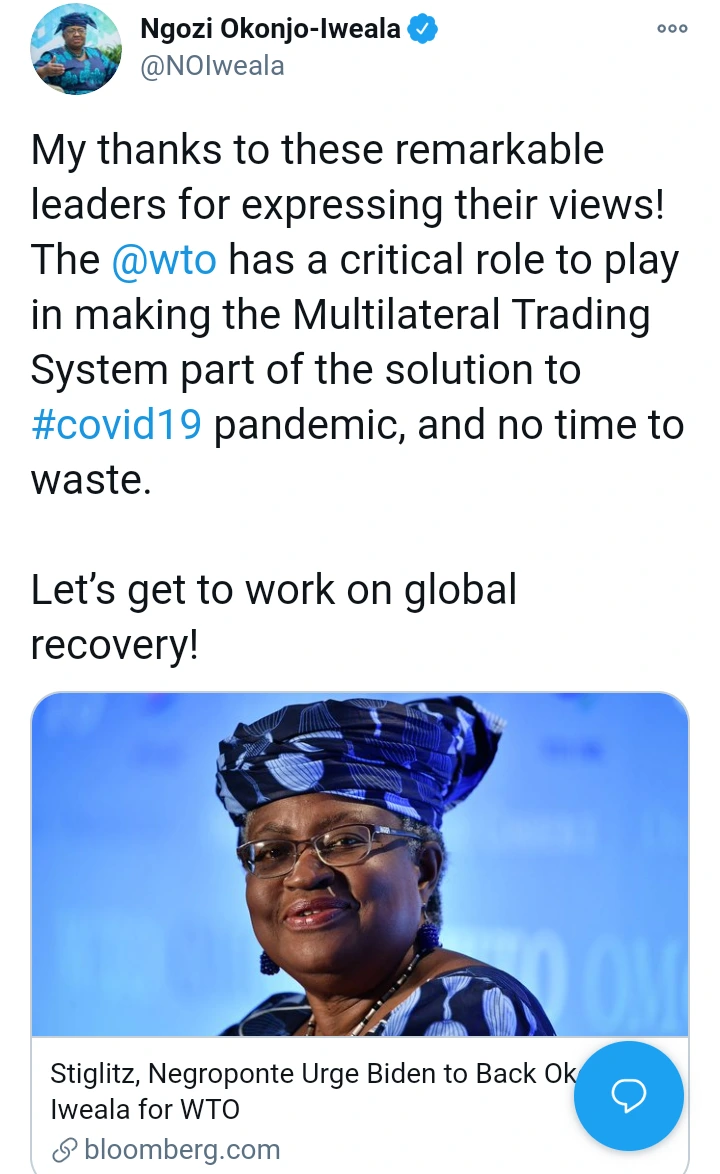 Advertise or Publish a Story on EkoHot Blog:
Kindly contact us at ekohotblog@gmail.com. Breaking stories should be sent to the above email and substantiated with pictorial evidence.
Citizen journalists will receive a token as data incentive.
Call or Whatsapp: 0803 561 7233, 0703 414 5611