The "Obianuju" crooner made the heavy accusations known on, December 4, 2020, in a lengthy post on Instagram.
The Singer also made headlines earlier this month as he further accused his estranged wife of poisoning his food and bath water for almost three years
Duncan Mighty and Vivien have been married for five years and they have three children together.
Duncan Mighty has now shared an alleged audio clip of his wife in which she can be heard confessing to the evil and fetish plots she allegedly carried out against her husband,  EKO HOT BLOG  gathered.
As earlier stated, Duncan  Mighty had first come out to accuse his wife of planning to kill him back in December 2020.
Duncan Mighty revealed that his travails began earlier in March 2020, after he surprised his wife with the documents of landed property he was building for her family. To celebrate, the couple decided to have a night getaway from their kids.
Midway into the night, he was woken up by his wife who was fidgeting. When asked what the problem was, Mighty revealed that his wife dropped the bombshell.
She confessed that her family had held a meeting where they planned to kill him and take over all his properties because he was an only child.
However, after getting several instructions from a native doctor, the plot to kill Duncan Mighty failed.
In her confession, Vivian revealed that she was told to cut his toenails and bring them for the rituals.
Duncan Mighty further alleged that he has the "confession" recorded and would release it to the public should she or her family members deny the allegations.
The singer also came out to further accuse his wife, Vivien of infidelity alleging that their daughter, Mitchell is not his. According to Duncan, a DNA test revealed that he is not the father.
In another lengthy post shared via his Instagram page on Friday, December 4, 2020, the music star said a certain Mr Frank is the father of Mitchell.
Click to listen to the alleged confession
YOU MAY ALSO LIKE THIS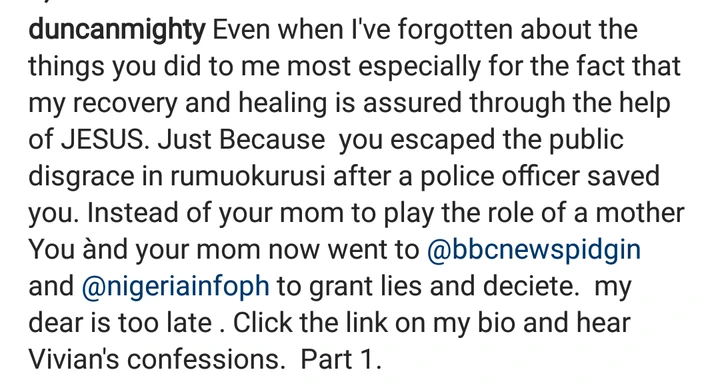 Advertise or Publish a Story on EkoHot Blog:
Kindly contact us at ekohotblog@gmail.com. Breaking stories should be sent to the above email and substantiated with pictorial evidence.
Citizen journalists will receive a token as data incentive.
Call or Whatsapp: 0803 561 7233, 0703 414 5611