Meek Mill has enraged fans and the wife of the late Basketball ball player, Kobe Bryant
Fans who were upset , feels Meek Mill is insensitive and disrespectful
The Rapper has apologised for his actions
Kobe Byant's wife, Vanessa Bryant has called out Meek Mill an American Rapper for an alleged Lyrical line he made on one of his latest music.
Meek Mill is an American Rapper, Songwriter and activist who has many albums including Dreams and Nightmare which is one of his biggest hit.
Remember Kobe Byant was an American professional Basketballer who spent his entire 20 year career with Los Angeles Lakers in the national Basketball Association.
Kobe died on 26 January 2020 aged 41 after he had a chopper crash which claimed his life and that of his daughter in Calabasas, California.
In the Instagram post made by Kobe's wife ,he called out Meek Mill out saying
" I find this line to be extremely insensitive and disrespectful. Period. I am not familiar with any of your music but I believe you can do better than this. If you are a fan ,fine theirs a better way to show your admiration for my husband . This lack respect and tact"
Here is the music line;
" This b—–i'm f——in' always tell me that she love but she ain't ever showed me.
Yeah and if I ever Lack,I'm goin'out with my chopper, it be another Kobe "
As gathered by   EKO HOT BLOG, After the trending post of late Bryant's wife, Meek Mill took to his social media handle and said he already apologized to her in private.
Here's what Meek Mill said
"I apologized to her in private not in public. Nothing on my page is direct to any internet viral moment or the family of a grieving woman,if you care about someone grieving change the topic"
YOU MAY ALSO LIKE THIS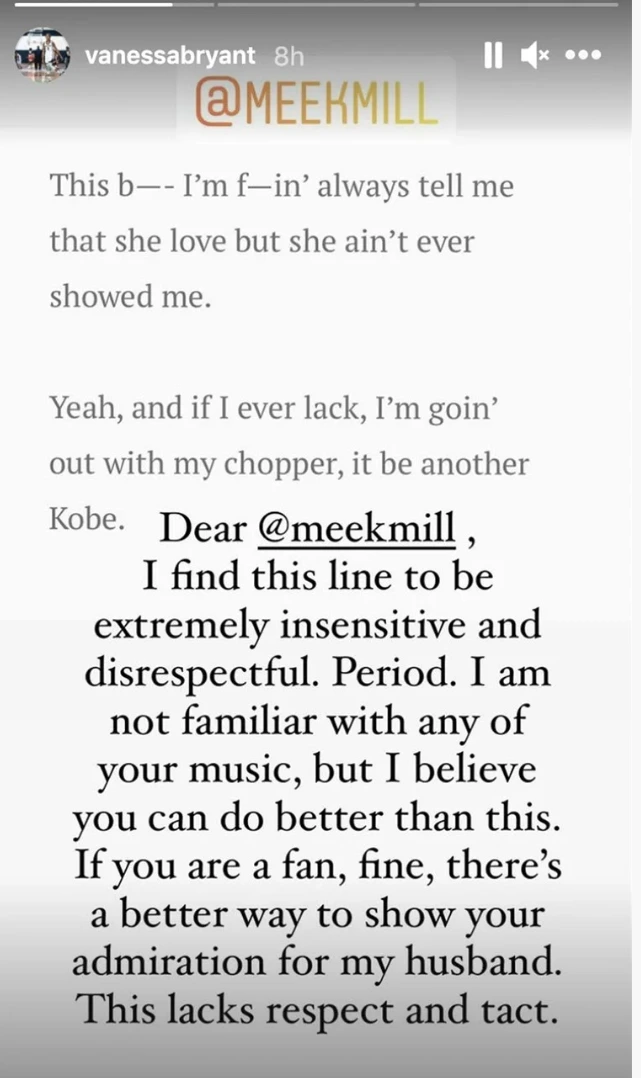 Meek Mill's Apology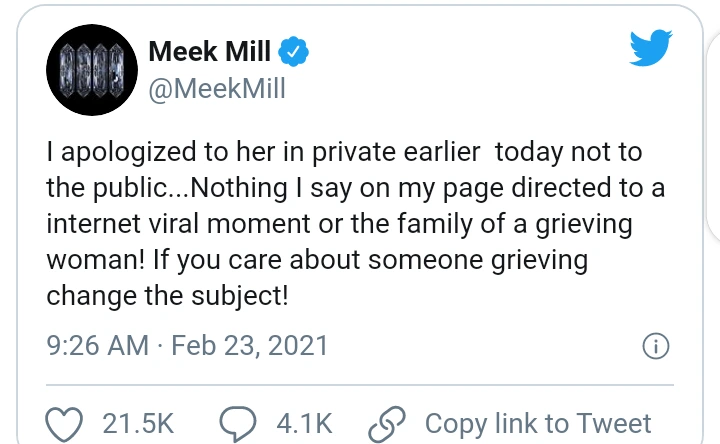 Advertise or Publish a Story on EkoHot Blog:
Kindly contact us at ekohotblog@gmail.com. Breaking stories should be sent to the above email and substantiated with pictorial evidence.
Citizen journalists will receive a token as data incentive.
Call or Whatsapp: 0803 561 7233, 0703 414 5611