In football, when several players come together to play as a one with synergy and understanding, a team/club is formed in the process.
There are a number of clubs across Europe that are dominating the league they happened to be playing in.
This is due to the understanding and synergy that exists between the players and the coach. 
Bayern Munich Legends, Franck Ribéry and Arjen Robben were two unstoppable duo, both players were French and Dutch but caused great havoc to the toughest defence at the time.
Bayern Munich once had two players who formed one of the most formidable duos the world of football has everything seen, though they weren't of the same Nationality but they managed to build that synergy and understanding between themselves.
Bayern Munich have been able to achieve this fate due to the familiarity the teammates have with each other.
The players have formed a bond that makes it easy for them to play out any opponent they are faced with.
Every season they are almost certain of retaining the title and have shown the reason why they are champions of Germany in the just concluded UEFA Champions League season.
Franck Ribéry was quoted to have said they both had won everything together, People nicknamed them "Robbery". He also stated that they will never forget what they had done together.
YOU MAY ALSO LIKE THIS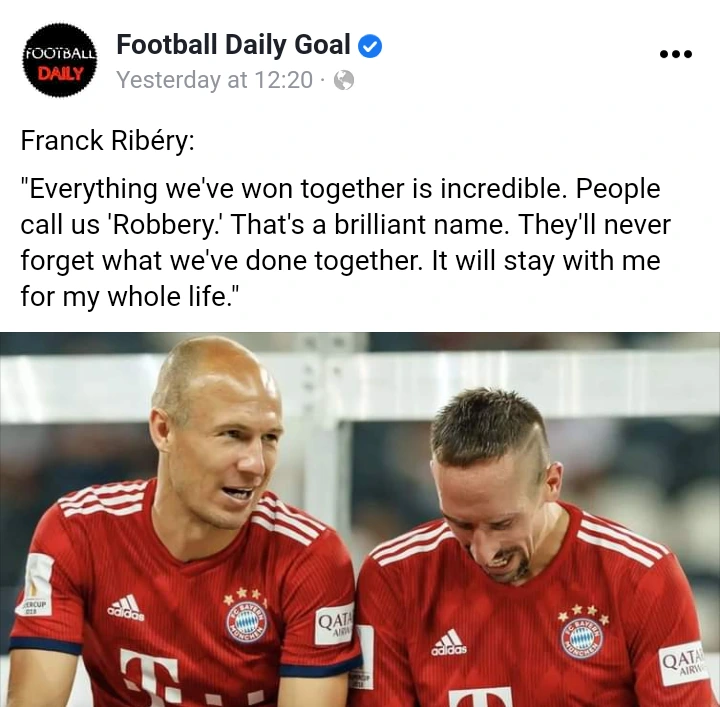 Advertise or Publish a Story on EkoHot Blog:
Kindly contact us at ekohotblog@gmail.com. Breaking stories should be sent to the above email and substantiated with pictorial evidence.
Citizen journalists will receive a token as data incentive.
Call or Whatsapp: 0803 561 7233, 0703 414 5611