Six years after the presidential election that made General Mohammdu Buhari a democratic president for the first time, Chief Femi Fani-Kayode, a minister during the tenure of former president Goodluck Ebele Jonathan makes list of 4 politicians who betrayed Goodluck Ebele Jonathan.
According to his tweet some hours ago, there are three people left to confess to betraying Goodluck Jonathan back in 2015, he stated that Babangida Aliyu has confessed, and that these remaining people he listed will not take too long again before they confess.
FFK stated that, all those who worked against Goodluck Ebele Jonathan during the 2015 presidential elections were all in the same party with Goodluck Ebele Jonathan, the People's Democratic party, PDP, which made it easier for them to penetrate and work against him.
After many have forgotten about the elections, accepted defeat and are trying to balance life with the current states of the country, Femi Kayode reminds everyone that these men are yet to publicly confess just as Babangida did.
As gathered by EKO HOT BLOG, These are the list of politicians he claims worked against Goodluck Ebele Jonathan even though they were in the same party;
(i.)  Sambo Dasuki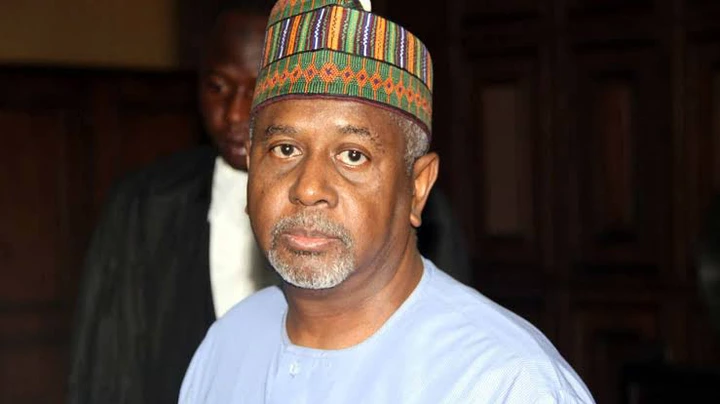 (ii.) Ahmed Mauzu
(iii.) Hassan Tukur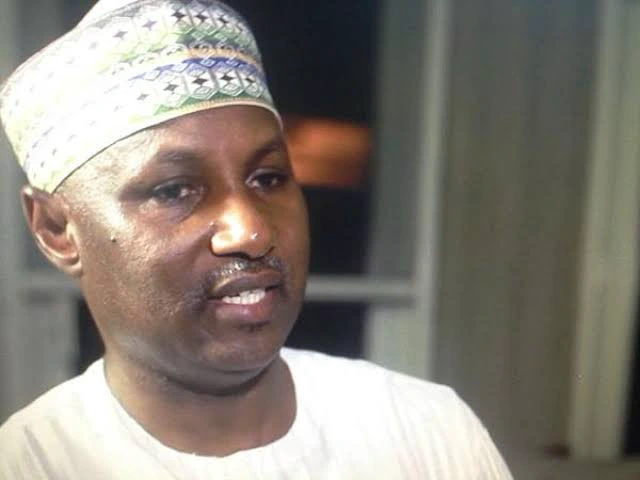 These 3 men are the ones whose confession he is waiting for and he added that it will not be long before they confess.
In his tweet he wrote;
"I pray they don't keep us waiting for too long! Now that Babangida Aliyu has publicly confessed to secretly working against Goodluck Ebele Jonathan 's re-election bid in 2015 with a number of others even though they were all in People's Democratic party, PDP.
"I wonder when we will hear the confessions of Ahmed Mauzu, Sambo Dasuki & Hassan Tukur as well. I am enjoying every moment of it! Destiny speaks at the end!"
YOU MAY ALSO LIKE THS
Here is the screenshot of his tweet from few hours ago;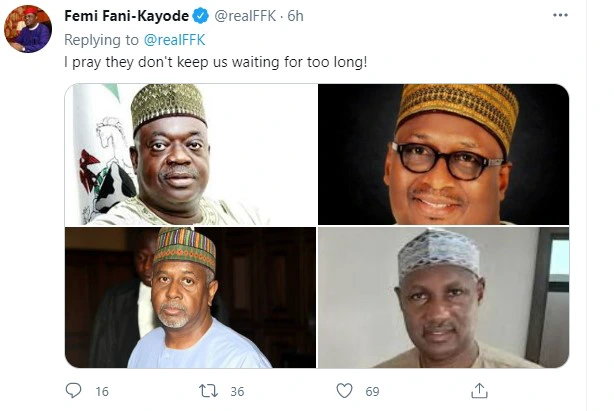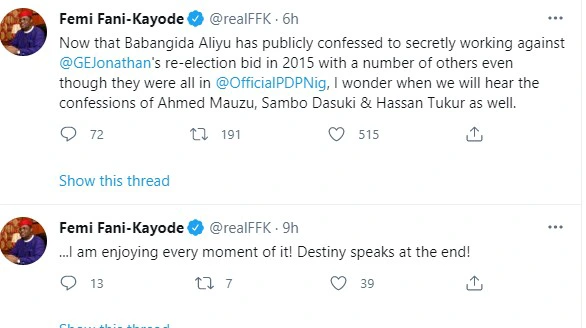 Advertise or Publish a Story on EkoHot Blog:
Kindly contact us at ekohotblog@gmail.com. Breaking stories should be sent to the above email and substantiated with pictorial evidence.
Citizen journalists will receive a token as data incentive.
Call or Whatsapp: 0803 561 7233, 0703 414 5611