The late Major-General Johnson Thomas Umunnakwe Aguiyi-Ironsi was Nigeria's first military head of state
He ruled as the Supreme Military Commander from the 1st of January 1966 till the day he was murdered on the 29th of July 1966.
He was killed by a group of soldiers who rebelled against his government.
When Ironsi was alive, he was known for carrying a crocodile-shaped swagger stick around.
Some believed the swagger stick had magical powers and Ironsi was overpowered and killed that day because he did not have his swagger stick with him.
According to Eye Witnesses, that day Theophilus Danjuma led other rampaging soldiers to kill Ironsi, he was with his swagger stick which was the first thing that they grabbed and the soldiers even demanded that Danjuma break the stick as they feared Ironsi would disappear but he refused.
READ ALSO: After Yomi Fabiyi Shared Chat With Iyabo Ojo, The Actress Reacts With Full Chats To Counter His Claim
The stick was named 'Charlie' and it was also referred to as 'Aguiyi' which means 'crocodile' or 'beast of the water' in General Ironsi's native Igbo language.
It was a kind of small stuffed crocodile mascot and the widespread belief then was that it helped make Ironsi bulletproof or even deflect bullets when he served in Congo where he was the Force Commander of the United Nations Operation in Congo on a peacekeeping mission. It is quite amazing how a tiny mascot will deflect bullets wheezing around with full velocities.
But his aide-de-camp, Senator Andrew Nwankwo (retired as a captain in the Nigerian Air Force), has dismissed such beliefs as crap. He said of the stick:
"It was a swagger stick, which he made after his name Aguiyi (crocodile). It was in the Congo, when he was commanding the United Nations Forces, the Indian troops were to land at the Lumumbashi Airport but the Cameroon gendarmes went and blocked the place with trucks, so that the Indian soldiers will not land, so, he used a Land Rover and with the stagger stick waved as they were shouting, he was eventually able to convince them to remove the trucks."
"Many attributed that feat to extraordinary powers in his swagger stick. But there was nothing in it, it was just a stick. Ironsi was not fetish; he was a devoted Catholic and attended mass every morning, even the day he was killed."
YOU MAY ALSO LIKE THIS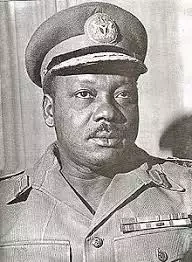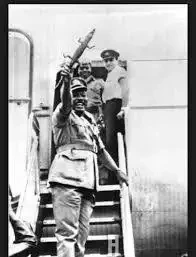 Advertise or Publish a Story on EkoHot Blog:
Kindly contact us at ekohotblog@gmail.com. Breaking stories should be sent to the above email and substantiated with pictorial evidence.
Citizen journalists will receive a token as data incentive.
Call or Whatsapp: 0803 561 7233, 0703 414 5611