Dr. Andrew Iduh an ENT surgeon, who was a volunteer at the Masaka Central Hospital( MCH), Odumehaje Christian Medical Mission (OCMM) and Helping Team International (HTI) , joint just concluded medical and surgical outreach in Masaka-Nasarawa state, disclosed that the outreach was characterized with massive crowd with many surgeries alongside medical treatments, laboratory investigations and pharmacy Pickups, conducted successfully without any recorded casualty.
The Ear , Nose and Throat surgeon explained that surgeries ranging from minor to major were carried out, some of which included: lump removals, hydrocelectomies, excision biopsies, appendectomies and myomectomies, among others; saying some of the specimens have been sent for histology.
Dr. Andrew recounted an incident where a patient was brought in with acute abdominal pains, and on examination, a huge intra-abdominal mass was felt compressing both the small and large intestines. It was a case of a ruptured right ovarian cyst. He quickly secured a homeostasis, did a cystectomy and the mass was taken out in a major surgery.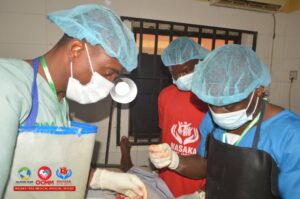 Another touching but apt intervention was a case of a woman who had multiple fibroids with lots of adhesions due to previous surgeries she had in time past. She had a child but wanted to conceive again without success . On getting to the venue of the outreach, examinations were carried out and surgery done with multiple myomas removed from her and adhesiolysis done to separate the fallopian tubes . Dr. Iduh who performed the surgery was optimistic that in due time, she would conceive again.
Also speaking, Virginia Okonji, a representative of a Non-governmental organization, Aid Healthcare Foundation, AH, who equally partnered at the medical interventions in the area of integrating HIV Testing Services, HTS, said:
''this hospital is actually one of our supported facilities. For the past four days, we've been rendering free medical services to patients here, and the population has been massive, the place has been crowded and that's exactly why we are here, to integrate and monitor HTS into the free medical intervention going on in the Masaka Central Hospital.
''So far so good, the quality of service delivery has actually been on point, patients have been handled in the right way, a large number of people were attended to and I for one will rate it eight over ten,'' she attested.
Also, Dr. Alechenu Godwin , a volunteer who came in from jos, said he actually took advantage of the ongoing Nigerian Resident doctors strike to be part of the medical outreach, noting that being a medical doctor is an avenue to serve both God and humanity, pointing out that his vision has been to save lives and work for the good of humanity, while calling on the striking doctors to reconsider their stand and give attention to the plight of the people especially the vulnerable among them.
Read Also: Medical Outreach: Nasarawa State Expresses Gratitude As Missionary Groups Storm Masaka And Environs
''by the grace of God I am privileged to participate in this year's outreach. The population was really massive. When we started, some of us were on ground consulting the out patients while others were in the theater carrying out surgeries. We were also shuffling between emergencies and the care of critical patients", he said.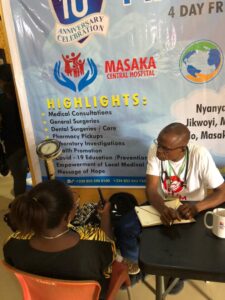 Dr. Emmanuel Anthony Adikwu, the Medical Director, MCH said, the joint medical outreach was to assist the densely populated community of Masaka which is also the suburb of Abuja, a home to people who are mostly low and middle income earners, in the area of healthcare and other services to mark the tenth year anniversary celebration of the hospital.
''here you have a lot of women still suffering from complications of pregnancies, we see a lot of high risk pregnancies that are poorly managed. The free medical service is what we felt we should do to reach out to the people as part of efforts to giving back to the
community, this is also in line with the vision of the hospital '', he added.
Addressing the beneficiaries, the Chairman and CEO of OCMM and HTI, Dr. Paul Odumu said, Medicine is a bait to give the message of salvation and that's exactly what the combined team were there to do, to treat the people's physical ailments and at the same time, lead them to the salvation of their souls.
For Ms. Stella Akago, one of the volunteers, whose job was ushering the crowd to different departments , said it was a rare privilege for her to serve in that capacity. Though quite challenging controlling the impatient crowd, since almost all the patients wanted to be seen all at once, with some even trying to bypass protocol. Despite this, "we worked according to the instructions given to us, to ensure the set goal is achieved at last,'' she posited.
Pastor Bernard, one of the spiritual counselors for the outreach described the four-day event as a long awaited answer to prayers which the people in the area have been hoping for, over the years.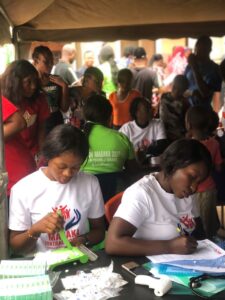 ''From the first to the last day, the turn-out was massive, the doctors and other health workers were on ground doing their job, I and the counseling unit were also trying our best by ensuring that those whose cases were not medical were rightly handled. I also count it a privilege to serve at the outreach and we know that God is going to reward everyone who served abundantly,'' he said.
---
Advertise or Publish a Story on EkoHot Blog:
Kindly contact us at [email protected] Breaking stories should be sent to the above email and substantiated with pictorial evidence.
Citizen journalists will receive a token as data incentive.
Call or Whatsapp: 0803 561 7233, 0703 414 5611