Major Nigeria Newspaper headlines & Naija News Today, Saturday, October 1st 2022 can be accessed below.
Below are the Major Nigeria Newspaper Headlines from Nigerian Newspapers today:
POLITICS AND NATIONAL NEWS
EKO HOT BLOG reports that a chieftain of the All Progressives Congress (APC) on Friday disclosed that the party's presidential candidate, Bola Ahmed Tinubu, was advised to travel abroad.
EKO HOT BLOG reports that the Federal High Court sitting in Abuja, on Friday, slated October 6 to hear a suit seeking to disqualify the presidential candidate of the All Progressive Congress, APC, Bola Tinubu, for allegedly acting in breach of the Electoral Act.
EKO HOT BLOG reports that a Federal High Court, Abuja, on Friday, nullified the nomination of Governor Gboyega Oyetola of Osun as the All Progressives Congress (APC)'s candidate in the July 16 governorship election.
EKO HOT BLOG reports that the body of Duruocha Osita Joel, an official of the Independent National Electoral Commission (INEC) who was abducted on Wednesday, has been discovered in Anambra State.
EKO NEWS
In continuation of the construction of the first phase of the Lagos Rail Mass Transit project, the Lagos State Government is extending the traffic diversion already in place at Muritala Mohammed Way from the initial completion date of 30th September 2022 to 31st December 2022.
Brokers and Insurers have been advised to have a strategic communication plan in letting the insuring public know that their contribution is pivotal to the growth of the economy.
Governor Babajide Sanwo-Olu has charged Professionals, especially those in the built environment, to stimulate fruitful discussion around the nascent Lagos-Ogun Joint Development Commission, saying the initiative holds a lot of promise for tackling development challenges confronting the two states.
The Lagos State Government has charged its quasi-judicial body in the built environment, the Lagos State Physical Planning and Building Control Appeals Committee, to review the past, consider emerging realities and come up with innovative ways of handling appeals.
Eko Hot Blog reports that Governor Babajide Sanwo-Olu, on the recommendation of the Advisory Council on the Prerogative of Mercy, has approved the release of 46 inmates from various correctional facilities across the State and commuted the death sentences of six inmates to life imprisonment.
INTERNATIONAL
EKO HOT BLOG reports that Joe Biden has sternly warned Vladimir Putin that the United States is "fully prepared" to defend each of its NATO allies as the war between Russia and Ukraine continues.
ARTICLE
Until science unmasked the myth of the jungle and brought the secrets of wildlife home to man via the television, little did the world know the lion wasn't the king of animals. Yep, the world never fully realised that the lion, when alone, was a potential danger, whose presumed invincibility is magnified by the strength in collective hunting, otherwise known as collective looting in Nigeria's political circles: Kill and chop.
SPORTS
EKO HOT BLOG reports that Chelsa's new boss, Graham Potter, has confirmed that N'Golo Kante and Edouard Mendy will not feature in his side's Premier League tie against Crystal Palace on Saturday due to injury.
EKO HOT BLOG reports that Manchester United manager, Erik ten Hag, has confirmed that Axel Tuanzebe and Brandon Williams will not feature when his team face Manchester City in Sunday's Premier League derby at Etihad Stadium.
EKO HOT BLOG reports that Christopher Nkunku completed a Chelsea medical this week as an 'insurance' policy rather than to finalise an imminent transfer to Stamford Bridge, according to reports in Germany.
EKO HOT BLOG reports that Ibrahim Musa Gusau has been elected the new President of the Nigeria Football Federation (NFF).
EKO HOT BLOG reports that the week 13 pool fixtures are for forty-nine (49) football matches for UK football 2022/2023 from the pool agent.
EKO HOT BLOG reports that the week 13 pool results are for forty-nine (49) football matches for UK football 2021/2022 from the pool agent.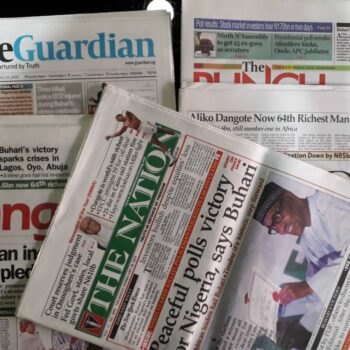 Good morning! Here is today's summary from Major Newspapers in Nigeria
PUNCH NEWSPAPER
1. Osun: Court sacks Oyetola, deputy
A Federal High Court in Abuja has nullified the nomination of Governor Isiaka Oyetola of Osun State and his Deputy Governorship candidate, Benedict Alabi on the ground that Governor Mai Buni, who submitted their names to the Independent National Electoral Commission, violated the provisions of Section 183 of the constitution of the Federal Republic of Nigeria and Section 82(3) of the Electoral Act 2022.
Oyetola and Alabi contested the July 16 governorship election on the platform of the All Progressives Congress.
But counsel for Oyetola, Kunle Adegoke, SAN, who confirmed the judgement to our correspondent, said that they would appeal the verdict.
"Definitely, we're going on appeal straight away, no alternative to appeal," he said.
2. Missing INEC employee found dead in Anambra
An employee of the Independent National Electoral Commission, Duruocha Joel, who was said to be missing in Anambra State, has been found dead.
Joel's body was found on the Isu-Aniocha-Urum road, Awka North Local Government Area, on Thursday.
This is according to a statement by the commission's National Commissioner and Chairman Information and Voter Education Committee, Festus Okoye, on Friday.
The statement quoted the Commission's Administrative Secretary in Anambra State, Okwuonu Jude, as having reported on Wednesday about the disappearance of Joel.
Joel was a Principal Executive Officer II on Grade Level 10 at INEC.
3. Aisha Buhari apologises to Nigerians over economic hardship
Wife of the President, Mrs. Aisha Buhari, on Friday, apologised to Nigerians over the harsh economic realities and insecurity experienced under the Buhari-led government.
"The regime might not have been a perfect one, but I want to seize this opportunity to seek forgiveness from the Ulamas and Nigerians in general. We all need to work together to achieve a better Nigeria," Mrs Buhari said during the 62nd Independence Day Special Juma'at prayer and Public Lecture themed 'Shura: The Islamic Foundation of True Democracy' at the National Mosque Conference Hall, Abuja.
Buhari, who urged Nigerians to pray for a peaceful transition of power in 2023, also said citizens must unite to restore normalcy and peace in the most troubled parts of the country.
She said: "Your Excellencies, distinguished guests, ladies and gentlemen, as you may be aware that this government is making its exit and perhaps witnessing the last anniversary of the regime, I ask Nigerians to pray for a successful election and transition programme.
VANGUARD NEWSPAPER
4. Nigeria at 62: Jonathan hails Nigerians' patriotism, sues for peace, unity
The former President in a goodwill message he personally signed stated that the event offers Nigerians a chance to reflect on the experience of nationhood and the prospect of progress and greatness, adding that the people have been steadfast in patriotism in challenging times.
Dr. Jonathan also noted that this year's anniversary comes at a time the nation is preparing for general elections and urged Nigerians to prioritise patriotism, unity and peace as they make their choices at the polls in 2023.
5. Independence celebration: IGP deploys police officers, assures of security
The Inspector-General of Police, IGP Usman Alkali Baba has directed the deployment of adequate personnel to provide protection for citizens, critical national infrastructures, and ensure the success of all activities lined-up for the country's 62nd Independence Anniversary scheduled for Saturday 1st October, 2022 around the nation.
They are also to prevent any untoward situation throughout the period of the celebration and beyond.
Towards this end, Strategic Police Managers comprising Assistant Inspectors General of Police and Commissioners of Police in all the Zonal and State Commands and the FCT have been directed to ensure high visibility and confidence boosting patrols around the venues of the celebrations, residential areas and other public places to prevent infiltration by hostile elements and ensure a peaceful celebration.
6. Insecurity: ActionAid reveals 408m youth affected by armed conflict
AS Nigeria sets to clock 62 years of independence in less than 24 hours, insecurity continues to devastate lives, property, peace and development, ActionAid Nigeria, AAN, Friday, revealed that 408 million youth are affected by armed conflict.
This was made known by the Country Director, AAN, Ene Obi, in an address of welcome at "The Learning and Dissemination of Policy Brief on PVE Implementation' held in Abuja.
Obi who was represented by the Head of Programmes, AAN, Nkechi Ilochi-Kanny, said the affected 408 million youth basically ranges between ages 15-29 who live in areas affected by armed conflict or organised violence.
She also explained that seven years ago the United Nations Security Council adopted the groundbreaking resolution on Youth, Peace, and Security, which recognizes that young people play important band positive role to n the maintenance and promotion of international peace and security.
THE NATION NEWSPAPER
DAILY POST
Thank you for experiencing our major newspaper headlines for today. More tales are offered on EKO HOT BLOG internet site. (Click Here)
We publish newspaper headlines every morning on Ekohotblog
---
Advertise or Publish a Story on EkoHot Blog:
Kindly contact us at [email protected] Breaking stories should be sent to the above email and substantiated with pictorial evidence.
Citizen journalists will receive a token as data incentive.
Call or Whatsapp: 0803 561 7233, 0703 414 5611