Mixed Reactions As Nigerian Man Donates Entire Savings For Peter Obi's Campaign
EKO HOT BLOG reports that a Nigerian man has caused a stir online after donating his entire nine month savings to ensure the Labour Party (LP) flagbearer, Peter Obi emerges as president in 2023.
This online media platform gathered that in the post shared on Twitter, the man said he is donating the money to secure his unborn future generation.
EDITOR'S PICKS
He further urged the former Governor of Anambra State to ensure that he does not disappoint him and other Nigerian youths who believe in him.
He tweeted: "Am using my 9 months' savings to secure my future generation yet unborn. Pls Peter Obi when you become president come 2023 election pls don't disappoint me and other you that believes in you."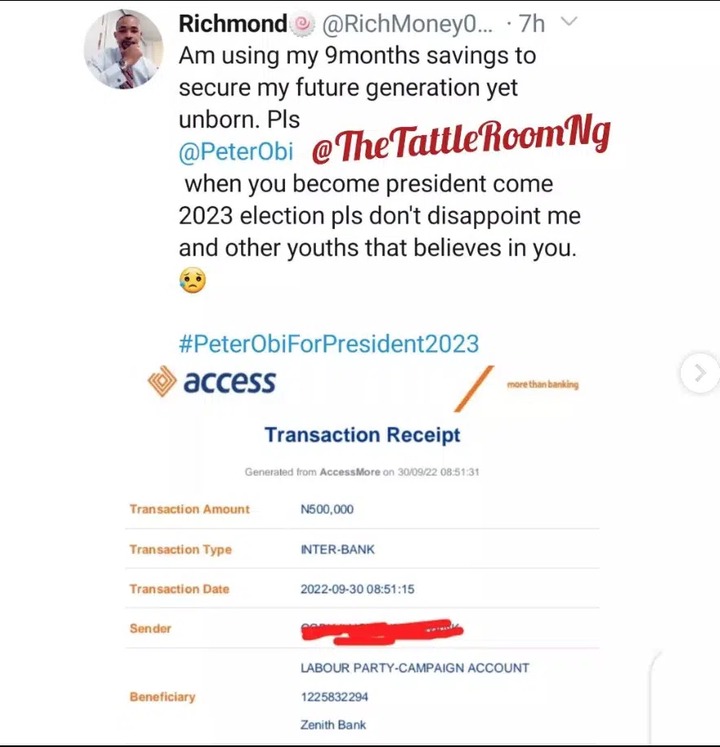 This generated mixed reactions online as some Nigerians fault the man's action, stating that it is a misplaced priority.
@callmechigo wrote: "Sending money to a political party account doesn't guarantee anything. It is not an investment to your future… This parties have more than enough to run their campaign and don't need individual funds. Since it's voluntary I don't have a problem but Imagine using that money to better your life and help your family members in need than donating to political parties. Misplaced priority
@onyii_ye wrote: "You people are trying so hard to tarnish Obi's image. The man no beg una for fundraisingooohhh!!!. Just get your PVC and vote wisely come 2023. That's not so hard to do nahh"
@iamdx2 wrote: "Suffer Don tire everybody"
@k_ketim wrote: "You mean you didnt have any family or friend that could talk you out of this"
@gcad007 wrote: "When someone here needs this money badly. Nigerians and misplaced priorities Sha."
@jacksonamaka_ wrote: "Chei God…its not easy to bring out 500k in this time…God please"
FURTHER READING
@ritas_voice wrote: "He just played lottery/ bet to win contracts, ministerial position etc. I pray his bet does not cut."
Click to watch our video of the week
---
Advertise or Publish a Story on EkoHot Blog:
Kindly contact us at [email protected] Breaking stories should be sent to the above email and substantiated with pictorial evidence.
Citizen journalists will receive a token as data incentive.
Call or Whatsapp: 0803 561 7233, 0703 414 5611