Republicans have won the control of the US House of Representatives.
Eko Hot Blog reports that Republicans won control of the US House of Representatives on Wednesday, according to the American media projections.
EDITOR'S PICKS
Although the win was not the "red wave" the party had anticipated, it returned the Republicans to the majority they lost to the Democrats in 2018.
The victory also gives the conservatives leverage to blunt President Joe Biden's agenda and spur a wave of investigations.
Nevertheless, a narrow majority will pose immediate challenges for Republican leaders and complicate the party's ability to govern.
The GOP took its 218th seat, which is needed for a majority, in the House more than a week after Election Day. The full scope of the party's majority may not be clear for several more days — or weeks — as votes in competitive races are still being counted.
On Tuesday, House GOP leader Kevin McCarthy won the nomination for speaker, with a formal vote to come when the new Congress convenes in January.
"I'm proud to announce the era of one-party Democrat rule in Washington is over," McCarthy said after winning the nomination.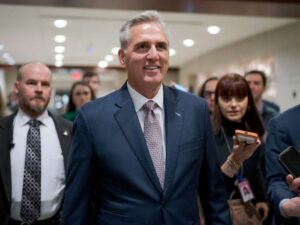 Republican candidates pledged on the campaign trail to cut taxes and tighten border security.
FURTHER READING
Meanwhile, President Biden has congratulated McCarthy, saying he is willing to work together to "deliver results for working families."
Click to watch our video of the week
---
Advertise or Publish a Story on EkoHot Blog:
Kindly contact us at [email protected] Breaking stories should be sent to the above email and substantiated with pictorial evidence.
Citizen journalists will receive a token as data incentive.
Call or Whatsapp: 0803 561 7233, 0703 414 5611