Tinubu has explained why he is different from Buhari.
Eko Hot Blog reports that the presidential candidate of the ruling All Progressives Congress (APC), Asiwaju Bola Tinubu, has said he is different from President Muhammadu Buhari.
EDITOR'S PICKS 
He spoke in an interview with BBC Africa published on Tuesday.
Asked why Nigerians should vote for him despite how some people feel the Buhari administration has let them economically, Tinubu suggested he will go in a different direction.
The former Lagos governor spoke about how he governed the state and boosted its revenue in an unprecedented manner.
He, however, defended the incumbent president, saying his fellow APC member has done his best.
"Because I'm different. I'm Bola Ahmed Tinubu. I have governed Lagos. I built a modern state that could be a country on its own," Tinubu replied the question.
"I've led an administration that was so prudent, from N600 million internally generated revenue to N5 billion a month. That's a record. Nobody else can brag about that.
"I've treated and tamed the Atlantic Ocean surge in Nigeria, that would have perished many people in Lagos. The infrastructural renewal in Lagos is excellent. I have continuity in Lagos.
"Buhari has done his best. I can't run away from him being my friend, my leader in the party. I will not."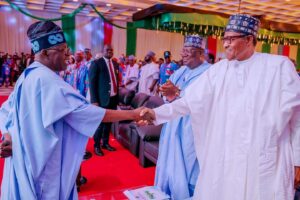 The former Lagos governor also explained his source of wealth, saying he inherited great real estates and turned their value around.
Tinubu, who said he has not taken any government contract since he left office in 2007, noted that no court has found him wanting despite multiple investigations into his finances.
"Are they enemies of wealth? If they are not enemies of wealth, investments do yield," he said in the interview monitored by Eko Hot Blog.
"I have an example of Warren Buffet. One of the richest in America and in the world. He started from stock buying and brokerages.
"I inherited great real estates. I turned the values around. I'm not denying my wealth. I've not been… I was the most investigated, the most accused governor in opposition up to, you know, for eight years and up to 2007.
"And since I left the office, I'm still there, I've not taken any government appointment, no government contract."
The APC presidential candidate also responded to allegations that he was getting a share of Lagos revenue.
He stated that those spreading the accusations are envious of him.
"Hey, excuse me, share, what? Have they proven it? The World Bank, (and) the International Monetary Fund have investigated the records in Lagos State. What's wrong with them? It's envy, envy, envy," Tinubu said.
Finally, the interviewer, Peter Okwoche, asked Tinubu who among his main contenders, Atiku Abubakar of the People's Democratic Party (PDP) and Peter Obi of the Labour Party (LP), would he have voted for if he was not in the race.
FURTHER READING 
He replied forcefully, "None. Because they are not as competent as any other person out there. They have no track record. None of them is qualified except me."
Click here to watch our video of the week:
---
Advertise or Publish a Story on EkoHot Blog:
Kindly contact us at [email protected] Breaking stories should be sent to the above email and substantiated with pictorial evidence.
Citizen journalists will receive a token as data incentive.
Call or Whatsapp: 0803 561 7233, 0703 414 5611