Alimosho General Hospital is set to launch electronic medical records, e-card system.
Eko Hot Blog reports that the Management of Alimosho General Hospital has unveiled plans to commence the use of electronic medical records and an e-card system that will further improve the healthcare of the residents in the community.
EDITOR'S PICKS
The Medical Director, Alimosho General Hospital, Dr. Ayodapo Soyinka, stated this in his address at the Fifth Annual Stakeholders' meeting organised by the hospital with the theme: "Sustaining Clients' Positive Experience".
Soyinka said the healthcare and the well-being of the residents have been the top priority of the hospital in line with the T.H.E.M.E.S agenda of the Babajide Sanwo-Olu administration.
He explained that the hospital organised the stakeholders' meeting annually to evaluate the performance of health workers in terms of quality service delivery by getting feedback from the members of the public about the services rendered.
Soyinka averred that since his assumption of office, the facility has been able to increase the scope of services rendered and made giant strides in terms of infrastructure, adding that this has made the hospital one of the best in the state.
On the patronage and number of medical cases currently being handled by the hospital, the medical director revealed that the hospital had been receiving a large number of patients for different kinds of treatments due to rapid medical development and the quality services the hospital provides.
He added that the healthcare sensitisation campaign recently embarked upon by the hospital, where members of the community were given free medical check-ups and screening, has made members of the public trust the government more in the area of medical care.
On her part, the Director, Clinical Service and Training, Dr. Jane Bakare, said the stakeholders' meeting has given room to the patients to express their feelings and share their experiences with the management of the hospital.
In her words, "We are glad to hear from our clients, we appreciate the good experience you had about the hospital and as well noted all your complaints, we assure you that all will be taken care of in no time."
The director, therefore, urged members of the public to have more trust in government-owned hospitals especially the General Hospitals in the State that have been equipped and positioned to meet the health needs of the populace.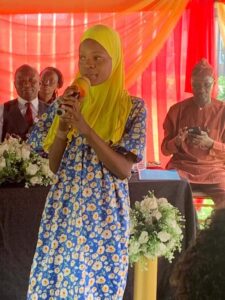 FURTHER READING
The event had in attendance nursing mothers and other categories of patients who shared their experiences and appreciated the management of the hospital for quality service delivery.
Click here to watch our video of the week:
---
Advertise or Publish a Story on EkoHot Blog:
Kindly contact us at [email protected] Breaking stories should be sent to the above email and substantiated with pictorial evidence.
Citizen journalists will receive a token as data incentive.
Call or Whatsapp: 0803 561 7233, 0703 414 5611