Bolanle Raheem's mother says her daughter was pregnant with twins.
Eko Hot Blog reports that the mother of Bolanle Raheem, a lawyer who was shot dead by a police officer in the Ajah area of Lagos has confirmed that the deceased was pregnant with twins.
EDITOR'S PICKS
The deceased's mother made the disclosure on Tuesday during a condolence visit by the Lagos police commissioner, Abiodun Alabi.
Recall that Raheem was shot dead on Sunday when she and her family were returning home from a Christmas Day service.
The murder sparked widespread criticism from various quarters, including the Governor Babajide Sanwo-Olu of Lagos, some presidential candidates, and several Nigerians.
The Lagos police command disclosed that the officer in question is currently in detention and the Inspector-General of Police, Usman Baba, has ordered a speedy investigation and prosecution of the killer cop.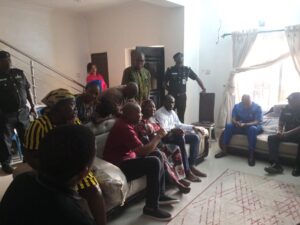 During the condolence visit on Tuesday, Raheem's mother said she hawked oranges to ensure that her daughter studied law in the university.
"I cannot see my 'The Law' again. People usually call her 'The Law'. She was taken away from me. She was pregnant with twins," she said.
"She died with her glory. She left a five-year-old daughter behind. And they took her away.
"On Monday, my granddaughter came to me and said 'Grandma Iju Ishaga, I saw you yesterday when you were crying; you were shouting; is it because of my mummy?' And I said 'yes'.
"Then she came again and told me, 'Pastor Jerry said what God cannot do does not exist; so, grandma, stop crying'. And she kissed me on the cheek.
"Just like that, she was taken away from me. Oluwagbenga (referring to the deceased's husband), you won't see your love.
"It is not easy. A child that I have been training since childhood. I suffered over her. I hawked oranges; there is nothing I did not do."
Speaking during the visit, the Lagos police commissioner assured the family that justice will prevail.
"This person who did this won't go unpunished," Alabi said.
FURTHER READING 
His comment mirrors Sanwo-Olu's statement on Monday, which promised that nothing under the law will be spared to ensure justice.
Click here to watch our video of the week:
---
Advertise or Publish a Story on EkoHot Blog:
Kindly contact us at [email protected] Breaking stories should be sent to the above email and substantiated with pictorial evidence.
Citizen journalists will receive a token as data incentive.
Call or Whatsapp: 0803 561 7233, 0703 414 5611