Brazilian football legend Pelé has died.
Eko Hot Blog reports that Brazilian king of football, Pelé, died on Thursday.
EDITOR'S PICKS 
He was 82.
Pelé's agent Joe Fraga confirmed his death in a statement.
"The king has passed," Fraga wrote.
He had undergone treatment for colon cancer since 2021.
The medical centre where the football star had been hospitalised for the last month said he died of multiple organ failure as a result of the cancer.
"All that we are is thanks to you," his daughter Kely Nascimento wrote on Instagram. "We love you endlessly. Rest in peace."
During his lifetime, Pelé was famous for winning a record three World Cups and becoming one of the most commanding sports figures of the last century.
Pelé was born in Edson Arantes do Nascimento, in the small city of Tres Coracoes in the interior of Minas Gerais state on October 23, 1940. He grew up shining shoes to buy his modest soccer gear.
His talent drew attention when he was 11, and a local professional player brought him to Santos' youth squads. It didn't take long for him to make it to the senior squad.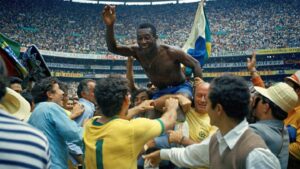 Despite his 5-foot-8 frame, Pelé scored against grown men with the same ease he displayed against friends back home. He debuted with the Brazilian club at 16 in 1956, and the club quickly gained worldwide recognition.
He went to the 1958 World Cup as a reserve but became a key player for his country's championship team. His first goal, in which he flicked the ball over the head of a defender and raced around him to volley it home, was voted as one of the best in World Cup history.
The 1966 World Cup in England — won by the hosts — was a bitter one for Pelé, by then already considered the world's top player. Brazil was knocked out in the group stage and Pelé, angry at the rough treatment, swore it was his last World Cup.
He changed his mind and was rejuvenated in the 1970 World Cup. He scored the opening goal in the final against Italy, his last World Cup match.
Overall, Pelé played 114 matches with Brazil, scoring a record 95 goals, including 77 in official matches.
His run with Santos stretched over three decades until he went into semi-retirement after the 1972 season. Wealthy European clubs tried to sign him, but the Brazilian government intervened to keep him from being sold, declaring him a national treasure.
Pelé ended his career on Oct. 1, 1977, in an exhibition between the Cosmos and Santos before a crowd in New Jersey of some 77,000. He played half the game with each club.
FURTHER READING 
He had two daughters out of wedlock and five children from his first two marriages, to Rosemeri dos Reis Cholbi and Assiria Seixas Lemos. He later married businesswoman Marcia Cibele Aoki.
Click here to watch our video of the week:
---
Advertise or Publish a Story on EkoHot Blog:
Kindly contact us at [email protected] Breaking stories should be sent to the above email and substantiated with pictorial evidence.
Citizen journalists will receive a token as data incentive.
Call or Whatsapp: 0803 561 7233, 0703 414 5611