Eko Hot Blog reports that Andre De Ruyter, the CEO of Eskom, which produces around 90% of South Africa's electricity, drank a a cup of coffee laced with cyanide.
EDITOR'S PICKS 
However, De Ruyter was lucky to survive the "attempt on his life," according to multiple reports.
According to specialist energy publication EE Business Intelligence, the Eskom CEO drank the coffee at his office in Johannesburg on December 13.
Eko Hot Blog gathered that De Ruyter had submitted his resignation as CEO to Eskom's chairman Mpho Makwana days before the poisoning occurred.
EE Business Intelligence reported that, after drinking the poisoned coffee, De Ruyter became "weak, dizzy, and confused," citing an unnamed source. He was shaking, vomiting, and eventually collapsed, the source added.
The publication reported that his security rushed him to a doctor, where he was diagnosed with cyanide poisoning and treated. Further tests reportedly confirmed there were large amounts of cyanide in his body.
"I have reported the matter to SAPS [the South African Police Service] on 5 January 2023, and the case can be assumed to be under investigation," the energy firm CEO told EE Business Intelligence, which first reported the news.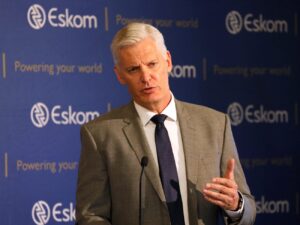 Eskom confirmed to Business Insider that Ruyter was involved in a "poisoning incident" in December 2022, and that a criminal complaint had been made, but said it could not comment further.
Pravin Gordhan, the government minister overseeing South Africa's energy sector told the Financial Times that "this attempt on his [Ruyter] life will be thoroughly investigated and those responsible must be charged."
Gordhan added that the alleged attempted murder "shows the intense battle taking place between those who want South Africa to work and thrive; and those who want to corruptly enrich themselves."
Since taking over as CEO of Eskom, De Ruyter is said to have attempted to crack down on corruption within South Africa's energy sector, EE Business Intelligence reported.
FURTHER READING
Despite his resignation, he will continue as CEO of Eskom until March 2023, while a replacement is sought.
Click here to watch our video of the week:
---
Advertise or Publish a Story on EkoHot Blog:
Kindly contact us at [email protected] Breaking stories should be sent to the above email and substantiated with pictorial evidence.
Citizen journalists will receive a token as data incentive.
Call or Whatsapp: 0803 561 7233, 0703 414 5611