By Aminu Wada
The saying often goes, "show me your friend, and I will tell you who you are," but when it comes to the Ikoyi Post Office in Nigeria, it becomes, "show me your post office, and I will tell you what your country is."
And of course, the Ikoyi Post Office as unveiled by a YouTuber through a video circulating on the internet recently, it goes to show the sad fate the nation, Nigeria has fallen on.
EDITOR'S PICKS 
It is true the country has fallen on hard times, evidenced by the rising inflation of prices, and decline of the naira's value amongst other things, but the Ikoyi Post Office was sadly a long time coming, and by a stretch shows a vivid picture of what Nigerians have to deal with on a regular basis.
It has even gone to show that quite a lot of Nigerians have normalized harsh conditions to an extent they have become so comfortable living in a bad system, and if they have become so comfortable living in a terrible system, what more can be said of having to work in same terrible climate?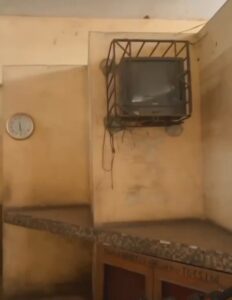 In the post office, as unveiled by the YouTuber, who had sadly visited the Ikoyi post office to collect her YouTube payslip, staffers were seen at the office ironically okay in the poor working condition.
Stories had trailed football great, Cristiano Ronaldo taking his former club, Manchester United to the cleaners for retaining old equipment and facilities he had met in his initial stint at the club, but the Ikoyi Post Office went a long way to show Ronaldo had met a luxury compared to what the staffers of the post office had to work with.
In the facility, stood an old standing fan that could possibly be dating back a decade as perhaps the only source of electrical ventilation in the entire hall, computers that perhaps dated back to when Facebook founder, Mark Zuckerberg was still in High School and was unsure of his entry into Harvard.
The staffers of course were left to improvise with their personal mobile phones in place of working computers or an available Wi-Fi network.
A case was made for the dilapidating walls and ceilings that perhaps were meant to serve as antiques of a now faded time period in Nigeria's history, that one can be permitted to wonder what would be if the rot ultimately caught up to it and in its eventuality collapse on one's head.
What then would become of the person?
The manager of the Ikoyi Post Office was of course called to account for the reason such a state of affairs wasn't brought to the government's notice. And like the political response, you could get from any government staff, it was, "we informed certain authorities, and they promised to have it fixed in a specific time."
FURTHER READING 
Was it a promise or just the usual politics? No one will know unless something was done about the mystery of the Ikoyi Post Office; a national symbol of present-day Nigeria—a decaying system.
Watch the video showing the poor state of the Ikoyi Post Office facility here.
Click here to watch our video of the week:
---
Advertise or Publish a Story on EkoHot Blog:
Kindly contact us at ekohotb[email protected] Breaking stories should be sent to the above email and substantiated with pictorial evidence.
Citizen journalists will receive a token as data incentive.
Call or Whatsapp: 0803 561 7233, 0703 414 5611