By Badru Haneefah
On January 10th, 2023, a royal revelation was unleashed upon the world. Prince Harry, the Duke of Sussex and spare son of King Charles III, bared his soul in a tell-all memoir entitled 'Spare.' But where did this intriguing title come from, you may wonder? It was none other than his father, the King, who had once described him as the spare heir, overshadowed by his brother and the Prince of Wales. But in 'Spare,' Harry breaks free from the shadow of the throne and shares his own journey, in his own words, with the help of ghostwriter J.R. Moehringer, available in whopping fifteen languages, including but not limited to Spanish, Dutch and Portuguese.
In 'Spare,' Prince Harry pulls back the curtain on the inner workings of the royal family. But it's not just the usual palace intrigue that he reveals, he delves into the troubled relationship that he had with some of the other members of the royal family, particularly after his marriage to the captivating African-American actress, Megan Markle. He candidly shares the struggles they faced as they tried to navigate the treacherous waters of the royal family, while trying to forge their own path. He writes with raw honesty about the emotional toll it took on him, and how it ultimately led to the decision to step back from royal duties.
EDITOR'S PICKS  
The first chapter of 'Spare' opens with a heart-wrenching account of the moment Prince Harry learned of his mother's passing. On August 31st, 1997, Princess Diana, the beloved Princess of Wales, died from injuries sustained in a tragic car accident. In the memoir, Harry recounts the memory of his father, the then Prince Charles III, breaking the news to him in an almost callous manner. But despite the unfeeling delivery, Harry doesn't hold it against him, understanding the complex dynamics of his parents' troubled relationship – an arranged marriage that had always been a source of tension.
Like a gust of wind, rumours of the King's true love swept through the palace halls, and Prince Harry didn't shy away from addressing them in his memoir, 'Spare'. According to whispers that refused to be silenced, the King had been carrying on a scandalous affair with the Queen Consort Camilla, during his marriage to the late Princess Diana, an affair that many believe to be the cause of their divorce. In the book, Harry reveals that despite the sons' antagonism, the King went on to marry Camilla in 2005.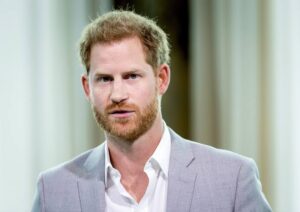 In the pages of 'Spare', Prince Harry takes us on a journey through his childhood memories, revealing a side of himself that few have ever seen. He writes about a time when, as a young boy, he clung to the belief that his mother, Princess Diana, was not dead, but simply hiding. He refers to it as "magical thinking," a coping mechanism he used to deal with the overwhelming loss of his mother. But the memoir also reveals a more mystical side of Harry. He speaks of a woman who served as a medium, someone who could connect him to his deceased mother. Through her, he received messages from his mother, messages that brought him comfort and solace. The woman told him that his mother was always with him, watching over him. One of the messages she gave was about a funny incident that happened in his house, an incident where his son Archie broke a Christmas ornament, something that made his mother chuckle, according to the medium.
In 'Spare', Prince Harry pulls no punches as he delves into the often-fraught relationship between himself and his older brother, Prince William. He paints a picture of sibling rivalry that was especially intense when it came to his marriage to Meghan Markle. According to Harry, William was one of the most vocal opponents of the union and made no secret of his disdain for Harry's future wife, calling her "rude" and "abrasive." But things came to a head during an explosive argument between the brothers, one that Harry claims turned physical when William allegedly attacked him.
Prince Harry's memoir also provides an unprecedented look into the inner workings of the royal family, including the relationships between its members. One such relationship that he delves into is the one between his sister-in-law, the poised and elegant Princess Kate and his wife, the strong-willed and independent Duchess of Sussex, Meghan Markle. He writes about a disagreement that occurred just days before his wedding to Megan, where Kate had requested that her daughter's flower girl outfit be remade. Meghan had responded that it would be difficult to do so given the tight timeframe. The argument had left Meghan, who had been looking forward to her wedding, curled up and in tears. However, in a conciliatory gesture, Kate sent her flowers and a card apologizing for any hurt caused.
As soon as it hit the shelves, 'Spare' has been flying off of them faster than hot bread rolls straight out of the oven. The public can't seem to get enough of Prince Harry's accounts of his life within the royal family. The memoir has sparked a frenzy of interest and speculation, with everyone eager to get a glimpse into the inner workings of the royal family. However, the royal family's spokespersons have been tight-lipped, refusing to give any official comments on the book.
FURTHER READING 
Whether the accounts in 'Spare' are true or not, one thing is for sure – it has captured the public's imagination and is being devoured by readers all over the world. 'Spare' is a must-read for anyone who has ever been fascinated by the royal family and the secrets that they keep.
Badru Haneefah writes for Eko Hot Blog. This media platform reserves all rights to this article.
Click here to watch our video of the week:
---
Advertise or Publish a Story on EkoHot Blog:
Kindly contact us at [email protected] Breaking stories should be sent to the above email and substantiated with pictorial evidence.
Citizen journalists will receive a token as data incentive.
Call or Whatsapp: 0803 561 7233, 0703 414 5611