Eko Hot Blog reports that a deadly earthquake, early Monday, jolted millions of people in Turkey, Syria, Lebanon and Israel from their beds.
EDITOR'S PICKS  
Besides collapsing buildings, the quake killed more than 1,400 people in Turkey and Syria, according to officials. Thousands are injured. The toll was expected to increase.
The epicentre of the earthquake was near the city of Gaziantep in south central Turkey.
Some survivors there fled their homes in the rain and took shelter in cars as the temperature hovered near freezing and the extent of the destruction became apparent.
According to the United States Geological Survey, the magnitude 7.8 earthquake hit at 4:17 a.m. It was followed by aftershocks, one as strong as magnitude 6.7.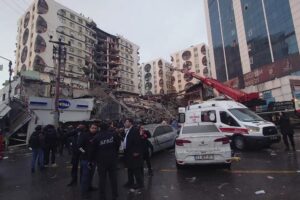 President Recep Tayyip Erdogan of Turkey said 912 people had been killed across the country, and that search and rescue teams had been dispatched to the areas affected by the earthquake. The country also sought international assistance for the rescue efforts. The death toll in Syria was more than 320, according to government figures.
Earlier, Turkish Interior Minister Suleyman Soylu announced a Level 4 alert, which includes a call for international aid.
Russia is sending two aircraft and rescue teams. Azerbaijan sent a team of 370. The E.U. said it was also sending aid, with teams from the Netherlands and Romania already on the way.
Turkey's emergency management agency, AFAD, said it was deploying 1,898 search and rescue workers and 150 vehicles.
FURTHER READING 
The Gendarmerie Special Security Command sent a crew of 130 with mobile command centers and kitchens to the city of Kahramanmaras, near the epicenter. In total, 300,000 blankets were sent to the region, which is deep in winter weather.
Click here to watch our video of the week:
---
Advertise or Publish a Story on EkoHot Blog:
Kindly contact us at [email protected] Breaking stories should be sent to the above email and substantiated with pictorial evidence.
Citizen journalists will receive a token as data incentive.
Call or Whatsapp: 0803 561 7233, 0703 414 5611