Stears' poll has tipped Peter Obi to win the 2023 Presidential election.

The development is coming days after Nextiers projected the Labour Party candidate will win the election.

According to Stears; "The basic poll results (without applying the model) show Peter Obi holding a healthy lead over his more established rivals.
EKO HOT BLOG reports that the Presidential flagbearer of the Labour party, Peter Obi has been predicted to win the 2023 Presidential Elections by another consulting firm, Stears.
This is coming shortly after Nextiers, another consulting firm, projected that Obi will win the keenly contested elections.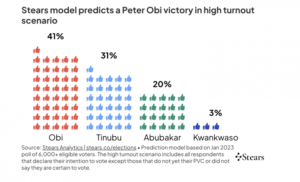 EDITOR'S PICKS 
Peter Obi will be facing the likes of Bola Ahmed Tinubu of the All Progressives Congress, APC, Atiku Abubakar of the Peoples Democratic Party, PDP and Rabiu Kwankwaso of the NNPP in the general elections scheduled to hold in about two weeks.
According to Stears; "The basic poll results (without applying the model) show Peter Obi holding a healthy lead over his more established rivals. In fact, his share of the vote is roughly Tinubu's and Abubakar's combined."
"Unsurprisingly, voters in the South East (64%) and South-South (48%) heavily back Peter Obi. More impressively, Peter Obi is also the most popular candidate in the North Central (26% of voters), ahead of Tinubu (19%) and Abubakar (11%)."
"Although Rabiu Kwankwaso lags far behind in the national polls, he may be a credible threat in the North West, accounting for 8% of the votes.
Perhaps more importantly, Kwankwaso's presence splits North West votes, with the most popular candidate (Abubakar) getting just 18% of the vote and as much as 45% of North West respondents declining to reveal their preferred candidate."
"The poll also shows that Nigerians vote along religious lines."
"The numbers are stark, with only 17% of Christians opting for either Tinubu or Abubakar, while 43% support Obi. Meanwhile, Obi gets just 3% of the Muslim vote, even less than Kwankwaso (6%).
Despite this, Nigerians are adamant that religion does not dictate their vote: just 4% of respondents selected religion as one of the three main factors determining their candidate choice."
"Make of that as you wish. Going beyond these basic results, we can provide more precise predictions by accounting for different voter turnout scenarios. For simplicity, we provide two scenarios here."
"High turnout: Includes every respondent that expressed an intention to vote except those that had not yet collected their permanent voter's card (PVC) and did not indicate that they were definitely going to vote."
"Low turnout: Only includes respondents that have their PVC, stated that they are certain about their chosen candidate, stated that they are sure they will vote, stated that they feel very confident in INEC's ability to conduct free and fair elections, and said they feel safe or very safe going out to vote."
"The high turnout scenario corresponds to an absurdly high voter turnout of about 85% (Nigerians are very optimistic about their likelihood of voting), and Peter Obi extends his lead over Tinubu."
"In essence, the Stears electoral poll and prediction model affirms that Peter Obi is by far the most popular and desired candidate for the 2023 Presidential Elections.
Having said that, to get a more realistic prediction of the outcome of the race, we can apply the same high and low turnout scenarios to our model predictions. When we do so, Peter Obi once again emerges triumphant in the high turnout scenario."
"The Stears electoral poll and prediction model indicates that Peter Obi is Nigeria's most popular presidential candidate and should win the presidential ticket as long as Nigerians follow through on their stated intent to vote.
FURTHER READING
"But, if voter turnout looks similar to 2019, then Tinubu will win the election."
Click here to watch our video of the week:
---
Advertise or Publish a Story on EkoHot Blog:
Kindly contact us at [email protected] Breaking stories should be sent to the above email and substantiated with pictorial evidence.
Citizen journalists will receive a token as data incentive.
Call or Whatsapp: 0803 561 7233, 0703 414 5611